Walking AR Experience: Dance Happening—Today
1 April–15 August 2021
On the streets of Ginza & Shimbashi, or online
This exhibition has ended
Follow the footsteps of William Klein's 1961 photoshoot of the soon-to-be founders of Butoh—Tatsumi Hijikata, Kazuo Ohno and Yoshito Ohno—taken on the streets of Ginza and Shimbashi one rainy afternoon. See into the past using nothing but a smartphone to view some 350 photographs in the very spots they were originally taken. Find a new perspective on this metropolis by layering the landscape of 1961 over 2021, and turn the city into an exhibition with AR (augmented reality).

*This exhibition is also available to view online, for those who can't make it in person.



Photo Spots
There are seven Photo Spots in the Ginza and Shimbashi area from which you can view the photographs. Each spot is numbered between 1~7 according to the order in which the photoshoot happened.
・Shimbashi:  3 spots around the Nishi-Shimbashi 2-chome intersection
・Ginza:  4 spots around the Ginza 4-chome intersection

How to use AR
350 photographs taken 60 years ago can be viewed through your smartphone or tablet in the exact locations they were originally taken in. Have fun layering images of the past over the present.
*Please not that the map has a location range limit. If the user's location cannot be found, or if it is outside the limit, the location displayed on the map will be set to the default position, and will not update automatically.
In person
When you are near the Photo Spots mentioned above, click the "Start AR" button. (You will need to give your browser permission to access your GPS and camera.)
↓
The Photo Spots will appear on a map as pins. Your current location is indicated by the blue flashing circle.
Walk to one of the Photo Spots and tap the pin. This will bring up the photographs that were taken in that area.
↓
Using the pins on the map as a guide, you can walk the route of the photoshoot.
The pins are numbered in the order the original photoshoot was taken, but you can start from any point you like.


Online
Press the "Start AR" button. (You will need to give your browser permission to access your GPS and camera.)
↓
The Photo Spots will appear on a map as pins.
If you click one of the Photos Spots, the photographs taken in that area will appear.
↓
Enjoy the landscape of Ginza and Shimbashi from 60 years ago.


Cautions
When starting your AR Experience, please check the weather and local information.
Please be sure to check your surroundings and stand still before using your smartphone or tablet. In areas where there are many people, please look out for and be considerate of others.
Please keep your head up and check for people and objects while walking, and observe public safety rules such as traffic lights. Do not use your smartphone or tablet while walking, driving, or riding a bicycle as it is extremely unsafe. Focussing on the screen without paying attention to your surroundings may lead to unexpected injuries or accidents.
We cannot take responsibility for any problems or accidents that occur while using the AR Experience. Please take care.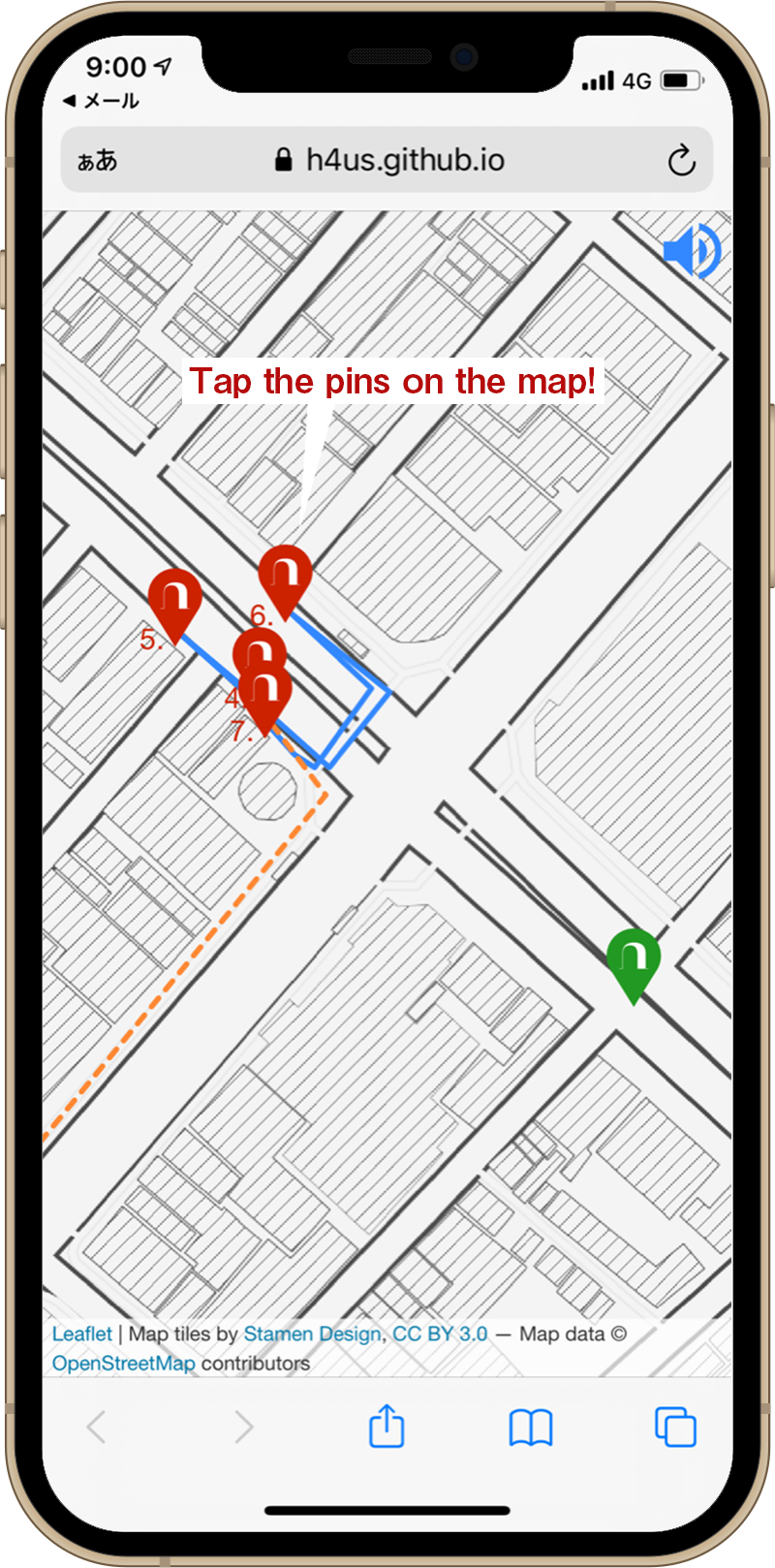 Your location is determined by your GPS (within the range of the map). Tap the pin on the map as you get close to the Photo Spot to see the photographs taken in that spot.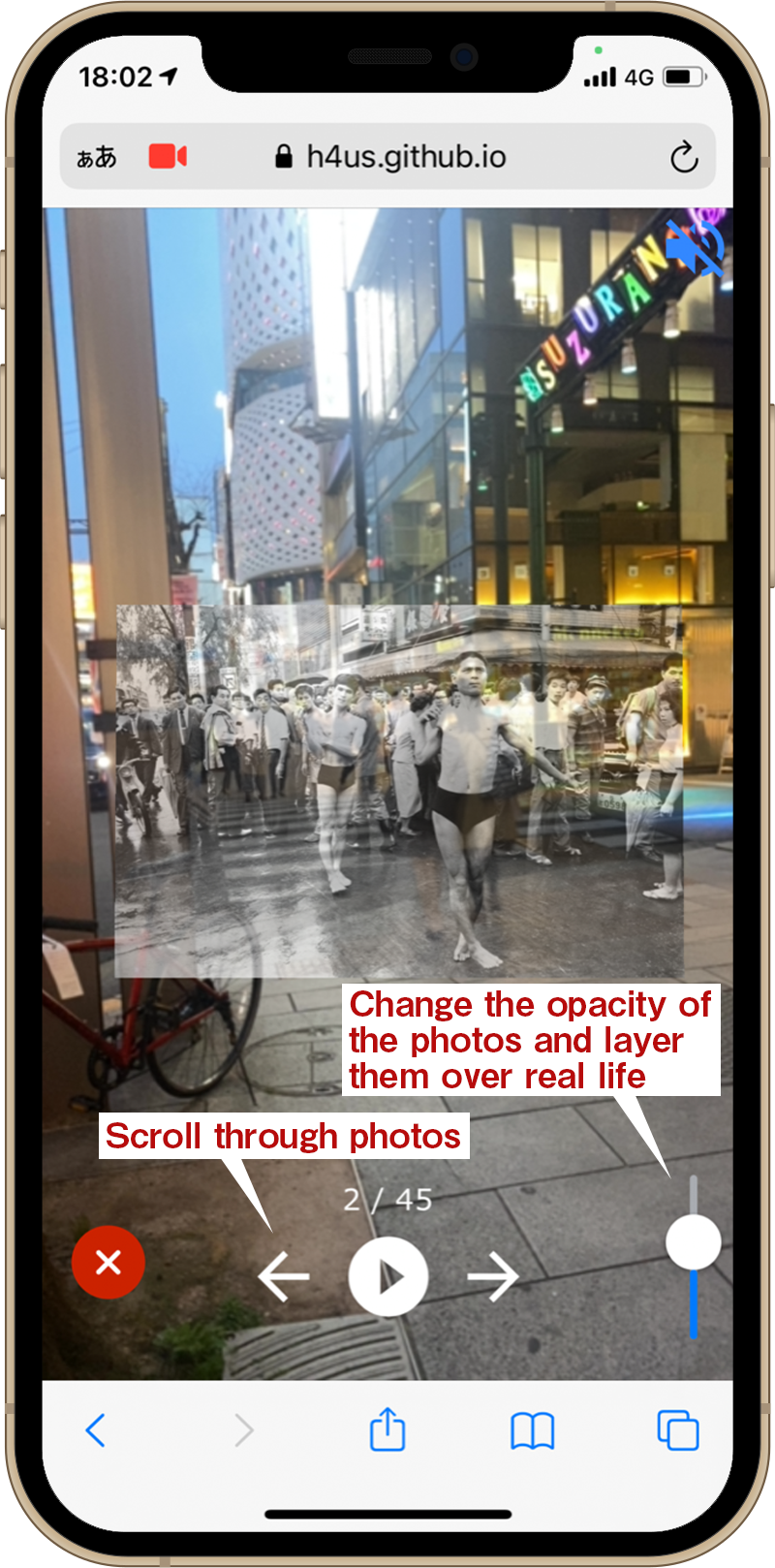 Enjoy more than 350 photographs taken 60 years ago around Ginza and Shimbashi in the actual spots they were taken, and overlap them with real life. The opacity, size and rotation of the photographs can be changed with finger gestures. Press play at the bottom of the screen to start a slideshow.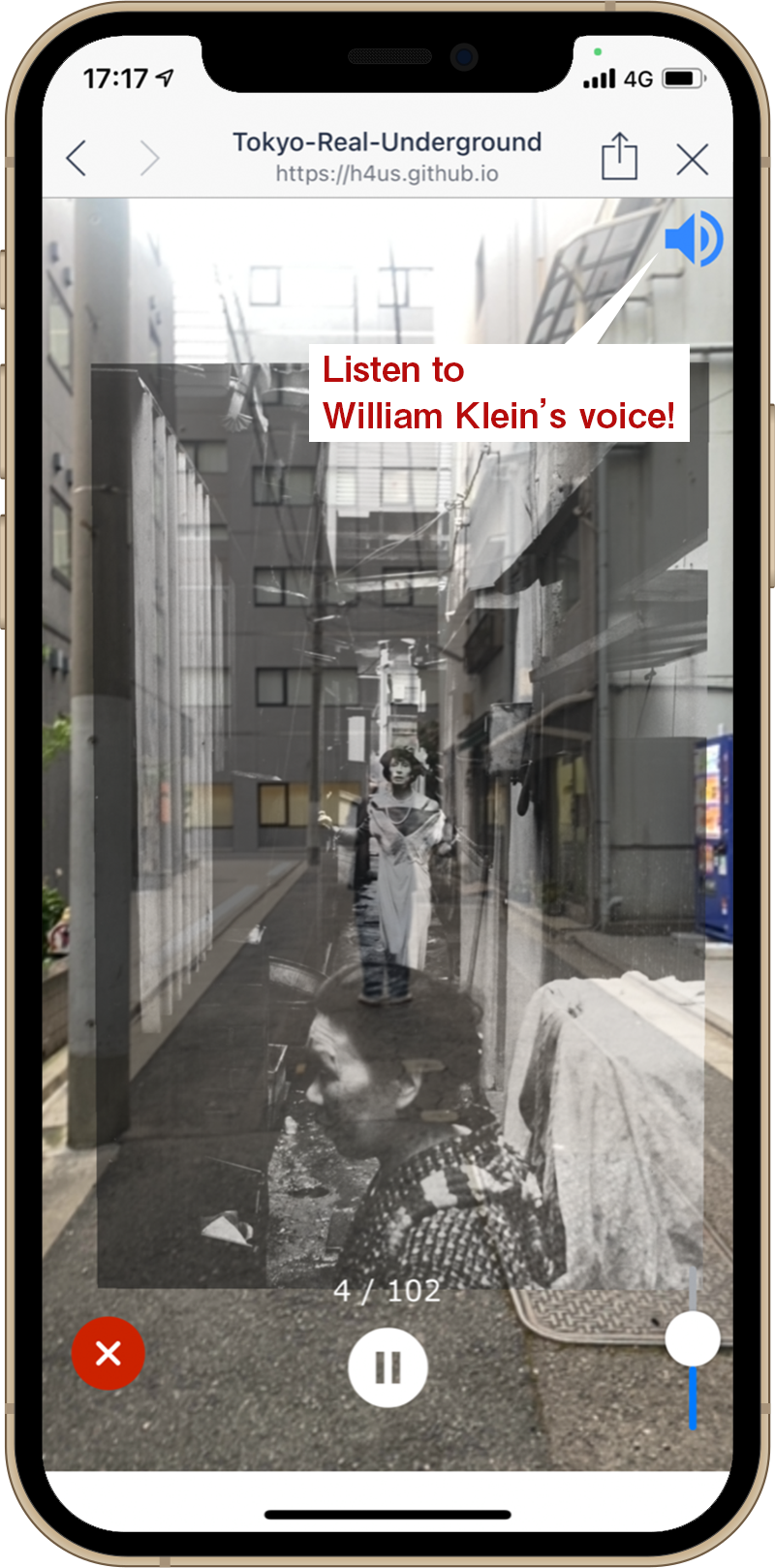 Listen to William Klein speaking in an interview (in English). Click the speaker button in the top right hand corner to turn this feature on/off.
AR production
HAUS
Hirozumi Takeda, Yosuke Hayashi, Takanobu Inafuku
A team with a wide range of skills, ranging from system development to design. Recent major projects include engineering for Dessin Ah! at the Design Ah! exhibition, specialised web design and development for chelfitsch & Teppei Kaneuji's Eraser Mountain, and planning and implemention of a live coding language for sound performance P-Code.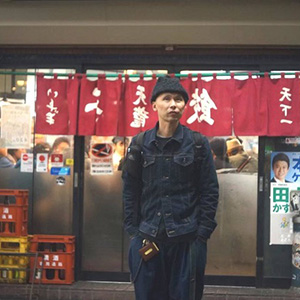 Director
naoto
iina
Videographer, director, dramaturg, visual scenographer and producer. Iina is the founder of Dance and Media Japan and International Dance Film Festival. He is also an Associate professor at Tokyo Zokei University and lecturer at Za Koenji Theatre Academy. Recently he has been working on cross-genre works with video, dance and text. He is in charge of direction, composition, filming and editing of the online Butoh program "Re-Butoooh" (NPO Dance Archive Network).
BUTOH Sunakku—TRU Exhibition
(Talk & Butoh Exhibition Dance)
A series of talks inviting experts and artists to hold in-depth discussions in Japanese about the TRU Exhibition works. Tune in to find out how these exhibitions came about, what the highlights are, and get some extra pointers on how to get the most out of these pieces. During these talks, a Butoh dancer from Japan will be invited to perform a "Butoh Exhibition Dance", with the aim of creating a new style of event where talks are conducted in a Butoh-inspired atmosphere.
9 May 19:30 [UTC +9] ~18:00 next day
William Klein Exhibition: GINZA 1961—Starring: The City +
Walking AR Experience: Dance Happening—Today (talk)